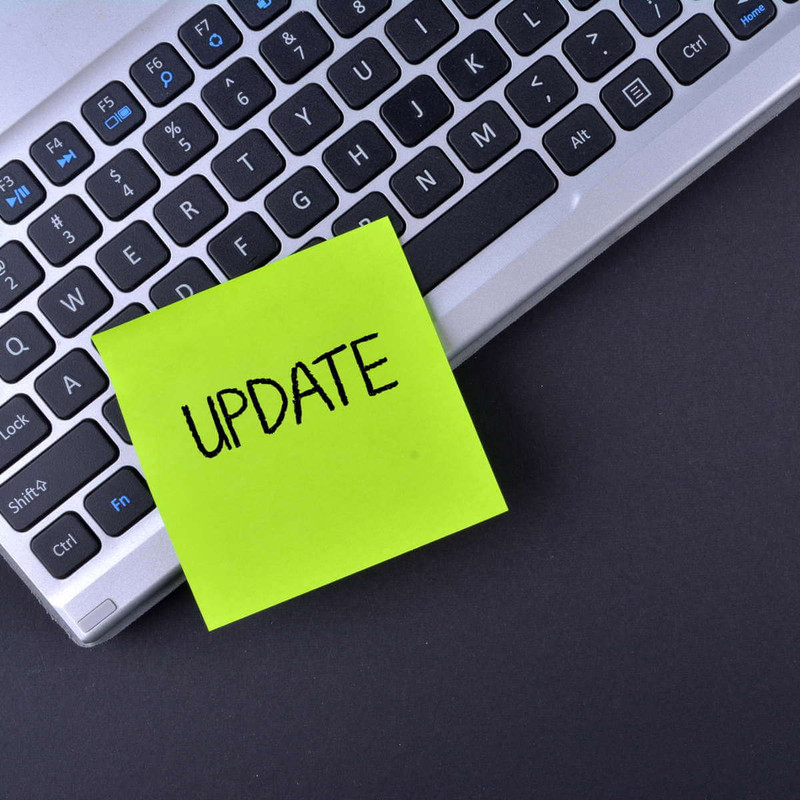 As the newest Windows operating system, Windows 10 is very popular among Windows users due to its outstanding features. Thus, many Windows 7 and Windows 8 users would like to update the OS to Windows 10.
But its' reported that many users get the message saying this PC can't be upgraded to Windows 10 when they are installing the OS after downloading. It's very annoying since major of them don't know how to solve it.
Actually, this error is caused by hard drive or hardware errors. Take it easy. Here are some practical solutions for you in the following part.
5 Methods to Fix This PC Can't Be Upgraded to Windows 10
Fix 1: Remove All External Devices
Before beginning updating your computer to Windows 10, check and remove the connected external devices from computer, including external hard drive, USB card and SD card. Otherwise, upgrade process may be interrupted, which lead to upgrading failure.
After unplugging all external devices from computer, you need to restart your computer, and then go on upgrading. If you intend to upgrade to Windows 10 with an external storage, please copy the installation to local drive, and then get down to the work after removing the external drive.
Fix 2: Run Update Troubleshooter
Windows Update troubleshooter is a Windows inbuilt tool to deal with update issues. So, running update troubleshooter is also a good way to get rid of this error.
① Enter Settings window.
② Click Update & Security, and then Troubleshoot.
③ Click Windows Update > Run the troubleshooter on the right panel.
The tool will automatically scan and fix errors regarding Windows update.
Fix 3: Check Device Drivers
You may encounter Windows 10 upgrade failure error when a certain driver is not ready for Windows 10. To troubleshoot it, you can update outdated drivers in Device Manager.
① Type devmgmt.msc in Run dialog. Press Enter to go to Device Manager.
② Expand each device category to see if there are drivers with yellow mark.
③ Choose the needed one to update or reinstall the outdated device drivers.
Fix 4: Disable Antivirus App Temporarily
Perhaps, PC can't be upgraded to Windows 10 due to antivirus programs, which may interfere with Windows 10 installation sometimes. So, try to disable the App before upgrading.
How to Disable Windows Defender:
① Enter Windows Settings.
② Click Update & Security and go to Windows Security > Virus & threat protection.
③ Click Virus & threat protection settings. Switch Real-time protection.
Fix 5: Free Up More Disk Space
To ensure successful Windows 10 upgrade, you should know if your computer meets the demands for Windows 10 installation, such as enough free disk space.
In general, you need at least 16 GB free space for Windows 32-bit and 20 GB for 64-bit. Now, you can check whether there is enough free disk space on disk drive. If no, take actions to release more free space by uninstalling useless programs or deleting junk files.
Here are 2 ways for you to clear up computer systematically.
Option 1 –Disk Cleanup
① Open File Explorer window.
② Find Devices and drives category.
③ Right click system partition (usually C drive). Choose Properties > Disk Cleanup.
④ Select files you don't need and click OK to begin cleaning.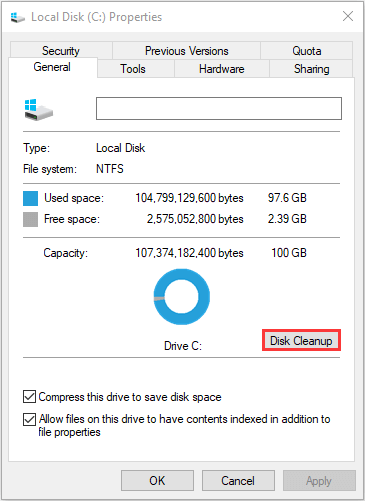 Way 2 – MiniTool Partition Wizard
① Open this free partition manager to reach its main interface.
② Right click the target partition (C drive) and click Extend feature.
③ Take free space from another partition or unallocated space. Drag the slider leftwards or rightwards to determine how much free space you are going to take. Click OK.
④ Click Apply to confirm.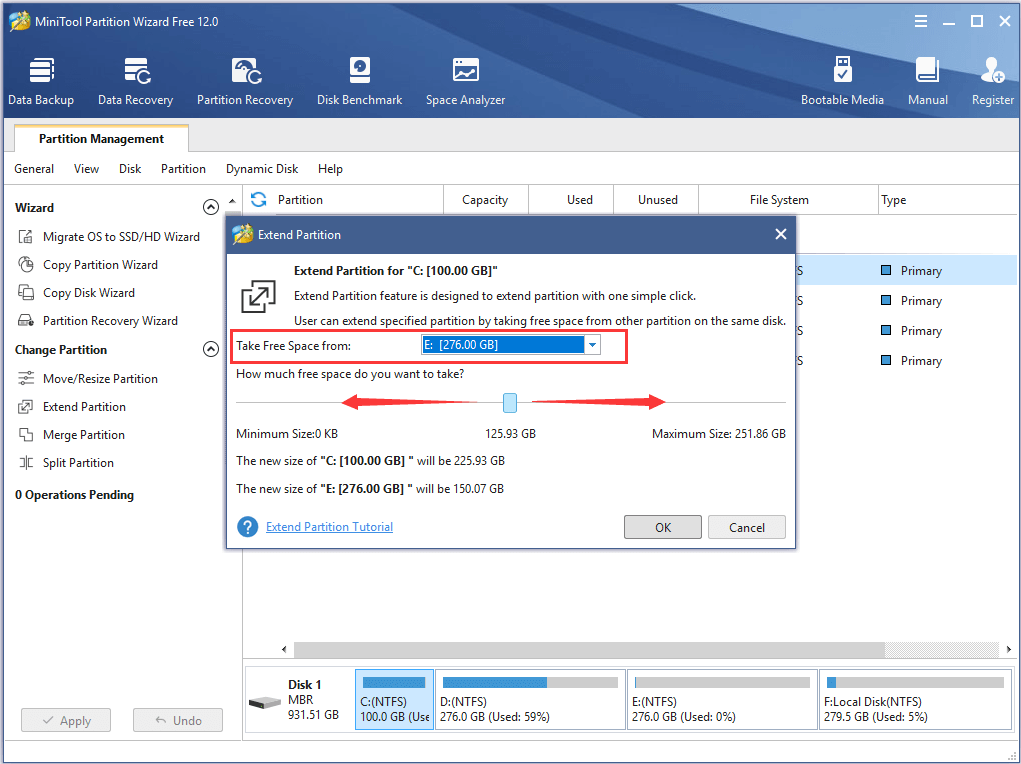 Conclusion
In this post, we have introduced 5 useful solutions to error this PC can't be upgraded to Windows 10. Therefore, don't worry about it even though you are suffering this problem. Just choose one or more feasible methods to solve it by yourself.